Harmon Guest House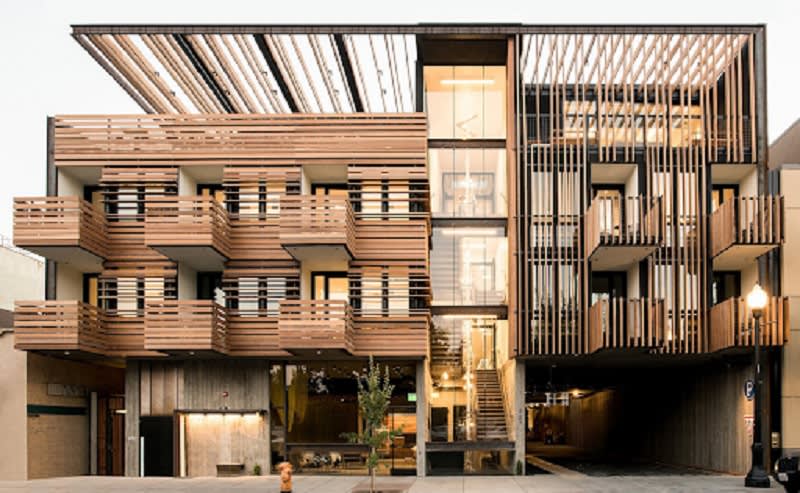 Credit: Trip Advisor

If you're looking for a modern hotel experience, Harmon Guest House might be the perfect hotel for your stay in Wine Country. This hotel has 39 rooms, including their Harmon King suites, Double Queen suites, and Founders suites. In their Harmon King suites, you can expect a private and spacious room perfect for getaways. Double Queen suites have two beds and are described as having a treehouse feel with a gorgeous view. The Founders suite is described as having a large apartment feel, equipped with a bedroom and a living room, and more. There is a suite here for everyone's needs!

One of the perks of booking a room at this hotel is that each suite has its own private balcony where you will see either the Creekside Deck, the mountains, or the courtyard. Breakfast is included with your reservation at Spoonbar restaurant. Breakfast typically includes pastries, fruit, eggs, coffee, tea, and more! Harmon Guest House also has a rooftop bar, where you can take in the scenic views of Healdsburg and enjoy a drink.
Hotel Healdsburg
Hotel Healdsburg is another lovely place to go for a getaway to California's wine country. The hotel is equipped with six different types of rooms and plenty of luxurious amenities you'll love. With so many different room types available, something will suit everyone's preferences for their stay.

A gourmet harvest breakfast comes with your booking, including eggs, cereals, baked goods, fruits, and more. Hotel Healdsburg's amenities include a garden pool, which is a 60-foot pool and jacuzzi that you will be able to utilize during your time here. The pool also has a beautiful garden filled with flowers and plants, making for a gorgeous and relaxing time while you swim. You can even order a drink at the poolside bar!

Speaking of bars, the hotel also has an indoor spirit bar where you can enjoy a cocktail or grab a quick bite to eat. Another thing that makes this hotel unique is the public bikes available for their guests to use. This is a fantastic way to explore the scenic California wine country.
Senza Hotel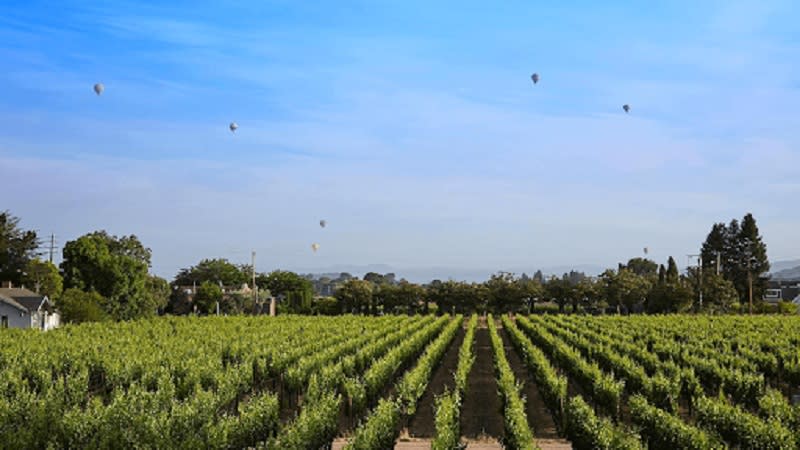 Credit: Senza Hotel
If you want to fully immerse yourself in Wine Country and experience all of the views it has to offer, then Senza Hotel might be the perfect place to book your getaway. This hotel has a modern atmosphere, and it is specifically known for its views in every room, with French doors leading out to a patio in every room you can book there. If you decide to book one of their vineyard suites, you'll be able to get a view of the famous vineyards, and you'll even see hot air balloons flying over them. This hotel's modern design comes with many convenient amenities for its guests to enjoy as well. They have a pool, a hot tub, and a fire pit to gather around at night, and even a nightly wine and cheese event for guests to attend. All bookings come with a complimentary breakfast, which typically includes pastries from the local bakery, fruits, yogurts, and more. This hotel makes for a unique experience with a feeling as though you're constantly in the vineyards and amazing views in every room.
Napa River Inn
If you're looking for a hotel located by the water but just minutes away from downtown in Wine Country, you should consider staying at Napa River Inn. This hotel is right on the water and is within walking distance from all the sights you'll want to see and experience in Wine Country. If you book a room here, you will also receive complimentary shuttle service throughout the downtown area of Napa, meaning that you won't have to stress or worry about traveling from place to place.

This inn offers its guests many other amenities for its guests to enjoy as well. Each booking comes with a complimentary Continental breakfast that includes pastries, fresh fruits, coffee, and more. You can even get the pastries delivered straight to your room in the mornings. Napa River Inn also has its own spa, so if you're looking to get relaxation during your visit to Wine
Country, this is the perfect place to get your favorite spa treatments done. If you're looking for a waterfront experience of Wine Country where you can do a lot of relaxation and explore the area, Napa River Inn is the perfect place to do so.
El Pueblo Inn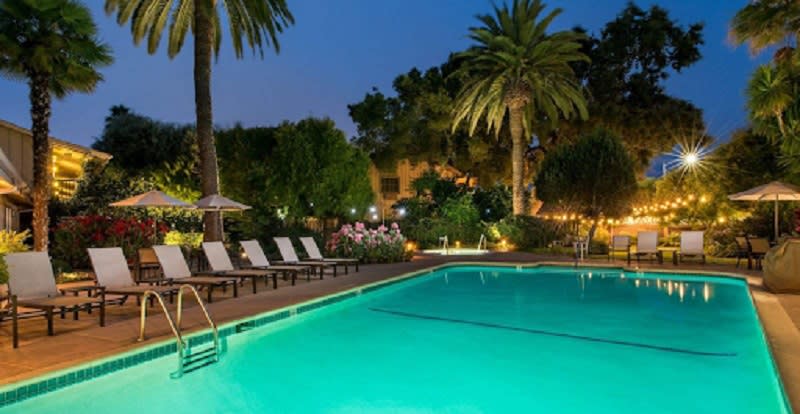 Credit: El Pueblo Inn

With a pool open 24 hours every day and a location convenient to local wineries, El Pueblo Inn is one of the top places that you can stay during your trip to Wine Country. This hotel is just minutes away from many great places to visit, like Buena Vista Winery, Sebastiani Vineyards & Winery, and Ravenswood Winery. It is also located right next to Sonoma's Town Square!

If you want to take a trip to San Francisco during your stay, the hotel is just a short drive away. They offer many different kinds of suites, including some with balconies, patios, or fireplaces, so no matter what you're looking for in a room, you can find it here. With every booking, you will also get to enjoy a complimentary breakfast in the mornings. The hotel's 24-hour pool and hot tub area are surrounded by flowers and plants, as well as lounge chairs, perfect for taking a swim or enjoying the hot tub during any hour of the day or night. This hotel makes for a relaxing and convenient trip.
H2hotel
Located in Healdsburg, h2hotel is a luxurious and environmentally friendly place to stay. They have various types of rooms to book, meaning you can tailor your trip to your needs and preferences. All of the suites come with your own patio or balcony so that you can take in those beautiful Healdsburg Wine Country views from the comfort of your hotel room. You will also receive a complimentary breakfast.

One of their eco-friendly amenities you can enjoy is their solar-powered and heated creekside pool, perfect for swimming and relaxing. This hotel also has a spa if you're interested in doing some more relaxation with treatments such as massages, facials, scrubs, and more. Its convenient location means you can enjoy all of what California's wine country has to offer. It is even close to the Russian River, a place for fun outdoor activities such as kayaking or canoeing. If you're looking to stay at an environmentally sustainable hotel with lots of amenities and a convenient location, this might be the perfect hotel for your stay in Wine Country.
Looking for more Wine Country?
California's Wine Country is both an amazing place to visit and to live. If you're looking for wine country homes for sale in Healdsburg, contact Marquis + Farwell Homes. She can help make your dream Californian home in wine country a reality!