Located in California's renowned Wine Country, Healdsburg is a Sonoma city where food and wine rule the scene. It's at the center of three major wine-growing regions, which makes for some of the best wine tasting in the country. Its charming downtown area has tree-lined streets, stunning views, and an array of fantastic restaurants and bars. Navigating so many fabulous options can be tricky, which is why we're breaking down all of the best Healdsburg has to offer.
Valette
Chefs (and brothers) Dustin Valette and Aaron Garzini dreamed of starting a restaurant in their hometown of Healdsburg. They wanted a place to showcase local farmers and artisans and to serve small production wines. In 2015, the brothers opened Valette. Since then, they've been featured by The James Beard Foundation, SF Gate, and many others. The restaurant serves unique dishes such as homemade semolina pasta with Valette's 30-month-old prosciutto; Snake River New York steak; and Chef Valette's "Trust Me" tasting menu. One of the greatest strengths of Valette is their wine selection. Each wine is made by a winemaker and farmer—both of whom work closely with Valette to craft stunning vintages. You won't get a better food and wine experience than Valette.
SingleThread
SingleThread is more than a restaurant—it's an experience. The Singlethread name encompasses a farm, inn, and restaurant. SingleThread Farm is just seven miles from the restaurant, where it produces and supplies vegetables, fruit, herbs, flowers, honey, eggs, and olive oil to the restaurant's kitchen. An entire team maintains the beautiful farm to ensure the restaurant gets nothing but the freshest, most delicious ingredients.

The restaurant is an outdoor oasis. The current layout was designed by Ken Fulk and is an homage to Hokkaido. You'll enter this peaceful outdoor forest and enjoy all this Michelin restaurant has to offer. Choose from a selection of tasting menus and enjoy multiple, excellently paced courses. Some menu standouts? Halibut with peach and golden sesame, wild kagoshima kanpachi with cucumber and pickled wasabi, and Japanese cheesecake with umeboshi.

Those looking to stay awhile can book a room at the Singlethread Inn. These gorgeous rooms sit atop the restaurant and can include multi-course breakfasts and private dining experiences.
Chalkboard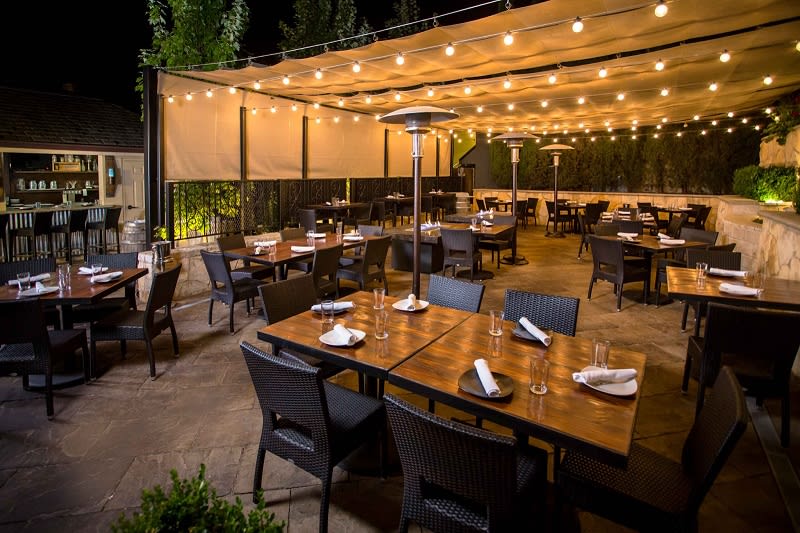 Credit: Chalkboard
If you're looking for Michelin-starred food in a casual, contemporary setting, head to Chalkboard. A Michelin Guide's Bib Gourmand Recipient in both 2013 and 2019, this restaurant specializes in small plates and incomparably fresh ingredients. Chef Forest Lee Kellogg sources from the restaurant's 4.5-acre garden Chalk Hill Winery. He also works with several local farms, including Marin Sun Farms, Front Porch Farms, and Preston Farms. Their homemade pasta is a specialty—try the tomato lumachine or the Estero Gold bucatino. You'll also want to pair your meal with one of their many wine flights and creative craft cocktail options. Chalkboard is a culinary experience you won't want to miss.
Bravas Bar de Tapas
Owned and operated by the James Beard Outstanding Restaurateur semifinalists Mark and Terry Stark, this popular Spanish eatery is known for their tasty small plates and refreshing sangria. Bravas Bar de Tapas is a sleek, modern space that offers both indoor and outdoor dining. Kick back and relax on the outdoor patio, enjoying beautiful sunset views while sipping on one of Bravas' signature cocktails. The decadent and unique Spanish menu delights diners on a regular basis, perfect if you're looking for something a little different for dinner! Try some paella (prepared for two or four people) made to order, featuring Spanish Bomba rice with Sonoma flavors. Chilled tapas options include goat cheese toast, tortilla espanola, salmorejo soup, and many more -- and if you're dining with a bigger party, grab a family-style large plate of tomahawk rib chop served with fennel salad and garlic toast, or the Original BFC Fried Chicken.
Dry Creek Kitchen
Credit: Tripadvisor
Chef Charlie Palmer helped put Healdsburg on the culinary map when he opened Dry Creek Kitchen in 2001. He's one of the most esteemed chefs in the country and is often featured on shows like NBC's Today Show, Bravo's Top Chef, and The Rachael Ray Show. He was also named the "Best Chef in America 1997" by The James Beard Foundation. Today, he works tirelessly to bring the best Progressive American cooking to his restaurant. Located in Hotel Healdsburg, DCK offers a seasonally rotating menu of the region's freshest food, as well as an expertly curated wine list. Both the exquisitely beautiful indoor dining room and outdoor patio are perfect places to enjoy California's best cuisine. Try their delta asparagus salad, Liberty Farms duck breast, and olive oil poppy seed cake. The wine list is so extensive, you can call the restaurant to hear it in advance!

DCK also hosts fun events like "Pigs and Pinot" and "Project Zin"—Chef Palmer's charity endeavor.
Barndiva
Barndiva is a restaurant, cocktail lounge, and award-winning wine bar you don't want to miss. The Barndiva "family" wanted to create an upscale farm-to-table experience that would showcase their farm's delicious offerings. Chef Jordan Rosas believes that "genuine hospitality" is what makes a meal memorable. To that end, each dish is crafted to make you feel at home. Although a rotating menu, some of the standouts include tagliolini limone, teriyaki glazed salmon, and pistachio butter and jelly. The restaurant's outdoor patio—shrouded in idyllic ivy and other flowers—is an ideal place to enjoy a delicious meal.

Barndiva also guarantees an unparalleled wine experience. In 2020, the wine bar was awarded the "Wine Spectator Best of Award of Excellence" for the fifth year in a row. Barndiva wants tasters to taste more than just the grapes; appreciating wine is about tasting the soil and the landscape that created it. Barndiva hosts three collaborative wine tasting events per year, which are a big hit with locals: The Pink Party (Spring), Fȇte Blanc (summer), and Fȇte Rouge (winter). Attend one of these events for an unforgettable wine tasting experience.
Interested in exploring Healdsburg real estate? Contact Marquis + Farewell Homes today!