Entrepreneur and CEO Pavel Hanousek shares his thoughts on the founding of SkLO with Karen Gilbert and Paul Pavlak, and his vision in building a business with a deep connection to one of his homeland's most recognized legacies, Czech glass.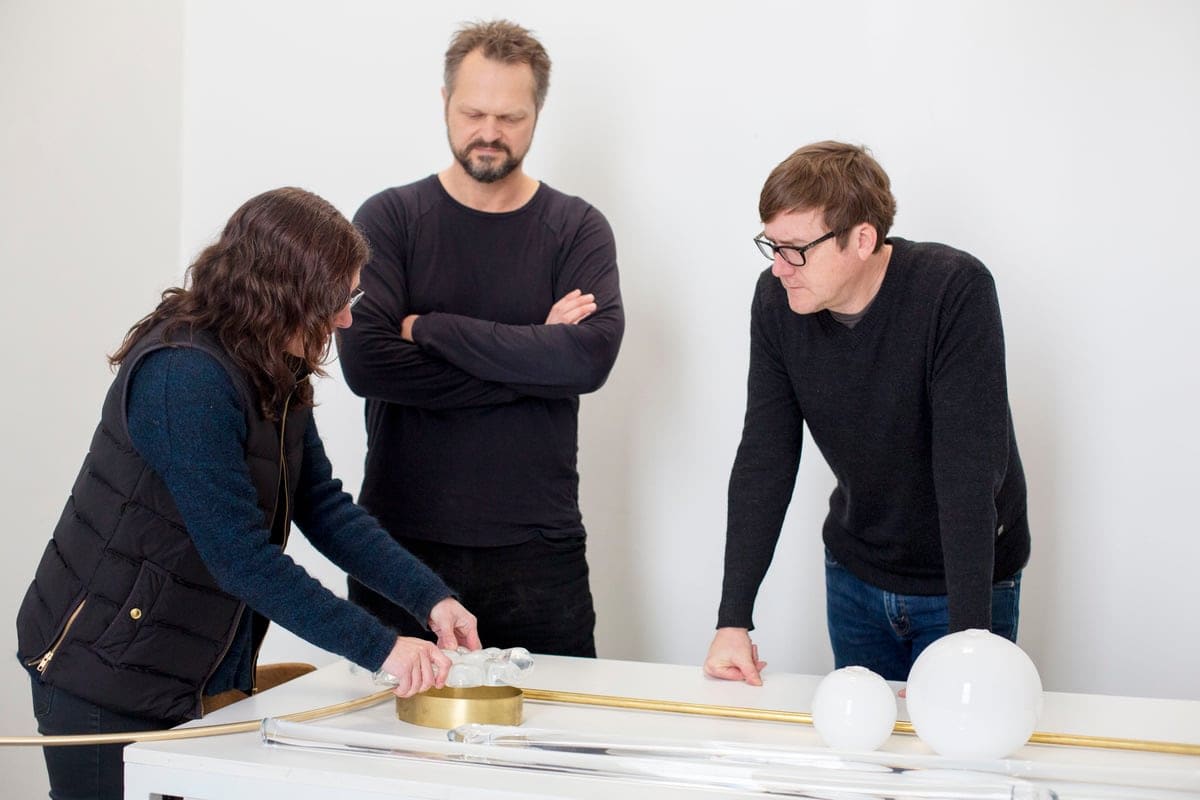 Q: What is your background?
A. I grew up in the Czech Republic and came to the US in my early 20s. It was a special time as I really arrived with nothing. I tried to get some education and was doing whatever I could to pay the bills. There was an interesting moment when I was cleaning houses for a living and then trying to sell the same houses with my newly acquired real estate license. This experience gave me a great view into Western culture and how people lived. At the same time, I always knew I wanted to stay connected to the Czech Republic and during my travels back to visit my parents I would always dream about what I could do to keep myself connected.
It just so happened at that time, I came across glass. Czech glass was going through its golden age in the 1990s. The Czech Republic was trying to get on the map of the world with its beautiful glass, which up to that point had been sold mostly to the Soviet Union and Asia. There were a lot of people trying new things. It was an inspirational time and I grabbed the opportunity to explore the world that was opening up. I started visiting glass factories and studios and getting to know the designers and glass blowers.
Q: How did you meet Karen and Paul and found SkLO?
A: We live in the same small town of Healdsburg in Northern California and were introduced by a mutual friend. I had a business that had just managed to get through the crazy economic crisis of 2008. We originally began chatting about bringing Paul and Karen in to design a line of glass lighting for me for that business. The more we spoke the more we realized we had an incredible synergy with my connection to glass and Karen being a jewelry designer and Paul being an architect. We realized we could create something really special if we joined forces to bring this unique element to market.
Q: What is special about SkLO?
A: There are many European designers working in glass but Karen and Paul are Californians who are working in that tradition. And as the third Partner, I am a native Czech who lives and works in California. It's quite a unique combination. Plus Paul and Karen bring an unusual perspective working together as a pair. Karen brings the intricacy and expression of jewelry, and as an architect, Paul is a purist with a tremendous sense of design as a discipline. SkLO is a result of their talents plus the material and medium of Czech glass craft, which I bring to the mix. Together it is like a beautifully balanced three-legged stool.
Q: What was your original vision for the company? How has it evolved?
A: People think of us as a lighting company, but we didn't sit down in 2010 and say to each other, 'Let's get into the lighting industry.' Even at the very beginning, SkLO was conceived as a design company and that has never changed. We began with an interest in the material, the craft and the process of Czech glass and built from there. I think that has helped us overcome a lot of preconceived notions about lighting and also gives us the freedom to grow the business in ways that interest us artistically. For example, we will be launching occasional furniture with a focus on glass this fall. I've seen all the work in prototyping and 3D sketches and it is incredibly exciting. It's a new category that feels like a natural organic evolution of the brand.
Q: What business guidelines have helped you lead SkLO as CEO?
A: It is always important to focus on better as opposed to cheaper. Competing on prices is a downward spiral. The second is to focus on revenue before cost. That's made for very healthy, mindful and sustainable growth for the company. I also believe it's important to take everything you do and question it fearlessly. Is there a way this could be done more efficiently? Could it be done more sustainably? Does this address the needs of our audience? Should this product be expanded or totally eliminated?
Q: What are some of your challenges and triumphs you've experienced leading SkLO?
A: There are always challenges. We have weathered recessions, a longshoreman strike in 2015, COVID and supply chain issues and have a continuing challenge for the world with rising energy costs and the war in Ukraine. We have an aging workforce of glass blowers. Like many traditional highly skilled trades, it can be physically demanding work and isn't attracting young people. But overcoming challenges on a daily basis in thoughtful ways is part of running a business, it can be fun and makes us stronger as a company. I think the triumph is that we are here and thriving. We are growing and have some incredible new projects in the works.
Q: What can you share about these projects?
A: We are part of the new Fairmont Golden Prague Hotel project by Richmond International, a renovation of the 1960s brutalist Inter-Continental Praha designed by Karel Filsak. It is our first involvement in a big Czech hospitality project and it's exciting for me to feel like SkLO has come full circle with this major project in the Czech Republic.
In California, we are opening a brand-new flagship showroom and studio in Healdsburg where we can host people and demonstrate what we do in a very hands-on way.
In addition to the new occasional furniture, we have a new collection coming out this fall that is a balance of fun objects and lighting and then natural extensions of the line in other areas. Adding SKUs is not what it's about. It's quality over quantity.